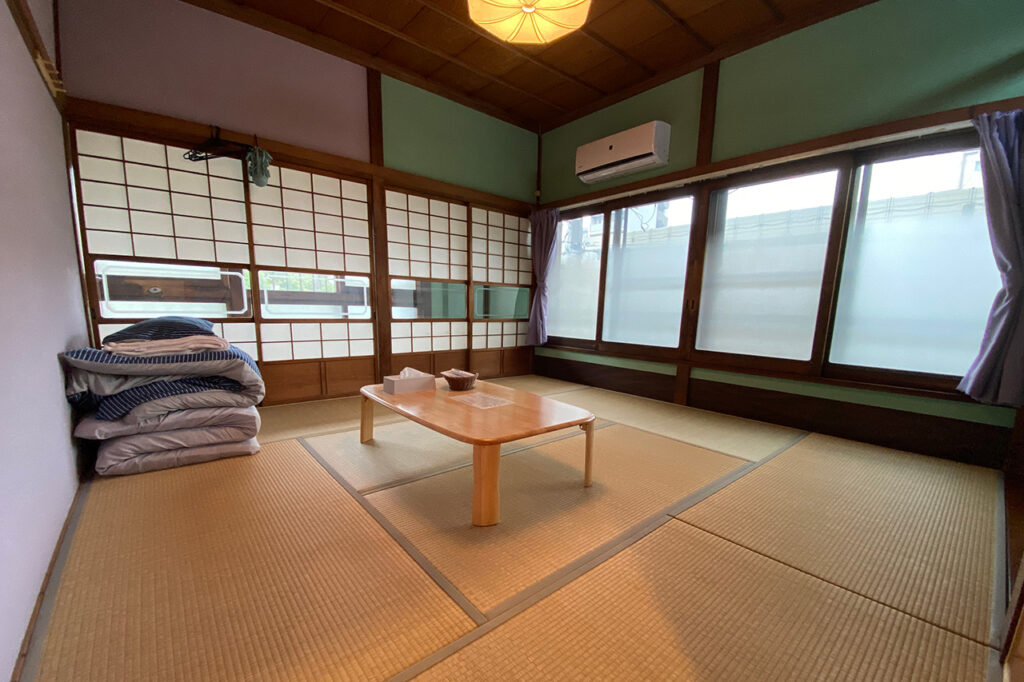 Private private dormitory type accommodation you can relax with a scent of grass.
The tatami mats is symbol of Japanese houses. It is a little far from the station, it is close to two local shopping street, Ishikawa-cho and yokohamabashi , so you can stay like living in this town.
Capacity: There are private rooms for 2 people, private rooms for 3 people, and private rooms for 5 people.
Address: 1-4-3 Nakamuracho, Minami-ku, Yokohama
・ There is a security camera in the facility. The facility is completely non-smoking indoors and outdoors. Japanese style futons are self-service.
Facilitie / Amenities
Private room for 2⇒ 2 futons / folding table / blanket / hanger / kitchenette / Frying pans / small pots / cooking accessories / tableware / cutlery / outlets
3 people private ⇒ 3 futons / folding table / hanger
5 people private ⇒ 5 futons / folding table / hanger
Shared facilities
electric kettle / IH stove / frying pan / glass / dryer / Washlet Toilet × 1 / Refrigerator / Microwave Oven / Washbasing / Shower (no bathtub) × 2 / WiFi
Service
Service drink ticket (available at 3 reception cafes) / Luggage storage (at market terrace café, only during business hours)
Check-in: 16: 00~
The reception is located in the Market Terrace Café.

*Because it is located in a residential area, please be careful of loud voices and noise.
Check-out: ~11: 00
*There is no need to stop at the front desk.
*Cleaning is available from 11:00, so please be on time.
Stays after 11:00 will be charged an extended stay.
Meals
There are many restaurants near the shopping street that are open from morning to midnight.
In addition, it is possible to prepare it at the reception café by reservation in advance.

Morning 500 yen (reservation required at least 1 day in advance), dinner course 2,000 yen (reservation required 3 days in advance)
Check in advance
* Sleeping with a child is free of charge. If you use bedding, even children will be charged for one person.
* Guests under the age of 20 must submit a parental consent form. Please contact the property for more information
* The property is non-smoking both indoors and outdoors
* Some rooms have steep stairs on site
* There are disposable thin towels, but bath towels and room clothes are not provided.